9622 cases of Cyber Crime in India in 2014
What were the motives?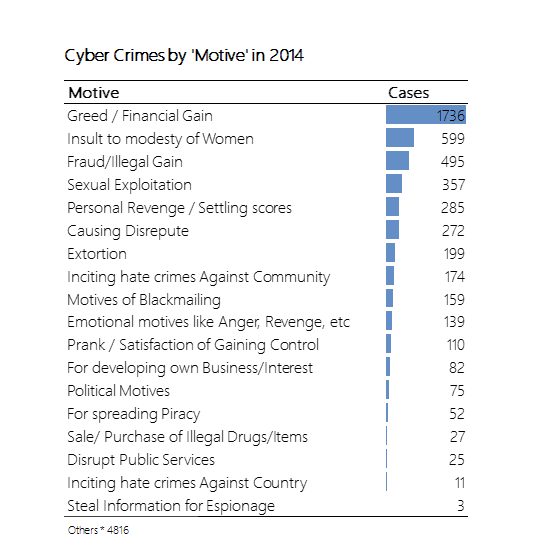 Followed by 'other' motives, 'Greed / Financial Gain' was the leading motive for cyber crimes in India in 2014. 'Insult to Modesty of Women' & 'Sexual exploitation' were amongst the top 5 motives.
For the second year in a row Kerala (66) topped the charts for 'Revenge' as motive of cyber crime while Telangana (35) leads in 'motives of blackmailing'. Out of 174 cases where the motive was to incite hate crimes against community, 110 were from Maharashtra.
5752 Cyber Criminals Arrested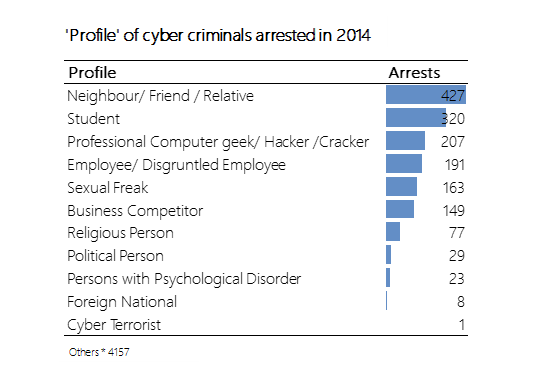 191 of those arrested in India were 'Employees / Disgruntled Employees', out of which 111 were from Telangana. 'Employees / Disgruntled Employees' form 25 % (111) of the total number of persons (429) arrested for cyber crime in Telangana.
55 out of 77 'Religious Persons' arrested were from Maharashtra. 83 of the 163 'sexual freaks' were also from Maharashtra.
Most of the 'Professional Computer geeks / hackers' arrested were from Uttar Pradesh (94), Bihar (40) & Chandigarh (22).
Data Source: https://ncrb.gov.in/