New Zealanders are voting today to choose a new flag. They've had enough of being mistaken for their Australian cousins and it's time for a brand new identity. It's just not New Zealand which needs a new flag. Here are a few other flag look-alikes we dug from this analysis of the flags of the world.
A five nation football tournament featuring Benin, Bolivia, Guinea, Lithuania & Congo would be great. Never mind which country you support you can blindly pick up any flag and wave.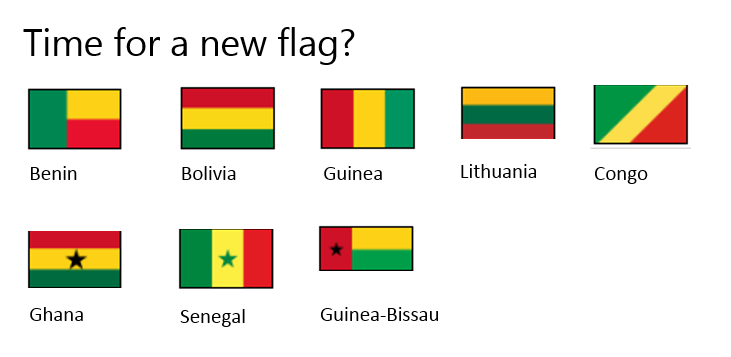 The Union Flag features in the flags of four countries in the Oceania region. According to this BBC News report the New Zealanders will also decide sometime next year whether to do away with the current flag featuring the Union Jack.

The flags of Romania and Chad are identical with vertical stripes.

Flags of Egypt, Iraq, Yemen & Syria are identical except for symbols.

Monaco & Indonesia's flags are indentical and you turn them upside down you get the flag of Poland.

Ireland & Cote divoire are identical but the order of stripes is reversed.

Andorra & Moldova in Europe have identical vertical stripes and colors.

Explore the "Flags of the World" page and see if you can find more flag look-alikes.